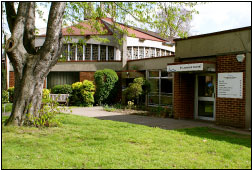 Welcome to St Laurence's
St Laurence Church is the Anglican parish church that has been serving the centre of Catford in south-east London since 1888.
We are open for Sunday worship, and also for private prayer during the week most days during daylight hours. All are welcome. The church is a Covid-secure venue, and there should be very little risk.
Parish Manager recruitment
Details of the Parish Manager post can be downloaded here.
Caretaker recruitment
Details of the Caretaker post can be downloaded here.
Sunday Services
We celebrate the eucharist at 8am and 10am every Sunday. You are very welcome to either.
The 8am is a quiet service without music, celebrated in the main church. There is plenty of space, and is as safe as we can make it.
The 10am is a service with music.We are once more singing in church, but we ask you to continue to wear a face covering, even while singing, to protect other people. You can find the Sunday readings here.
Weekday services
Currently, we have a Wednesday eucharist at 10.30 in the main church, preceded by exposition of the sacrament from 10am.
On Thursdays there is a eucharist in the Lady Chapel at 9.45.
Once a month we have a healing service on a Tuesday evening at 7.30pm.
St Laurence's on-line
We livestream the eucharist on Facebook and Youtube every Sunday at 10am. Do join us. We also have an Instagram profile and Twitter.
Subscribe to our newsletter
To subscribe to our e-newsletter, and keep in touch with all our events and news, please click here
Parish Manager
We are recruiting for a new parish manager. To download the information pack, please click here
Annual Report
You are welcome to view or download a copy of our annual reports for 2019-21 by clicking here.

Keeping in touch
Subscribing to our social media channels and the email newsletter are the best ways of keeping up to date with information from your church during lockdown.
Places to find our postings:
• Facebook: Go to Facebook, search for St Laurence Catford (@stlaurenceSE6). You do not have to have a Facebook account to watch videos etc on Facebook so anyone can view our services without logging in.
• Twitter: Our Twitter account is @stlaurencese6. Just follow for daily updates
• WhatsApp: Please ask to be added to the group via the parish offfice.
• YouTube: Go to your web browser and search for YouTube. Once you are in YouTube, search for St Laurence Catford to reach our page. If you subscribe you will be notified every time something is posted. YouTube is also available on some smart TVs.
* Instagram: our profile is stlaurencechurchcatford