St Laurence Church choir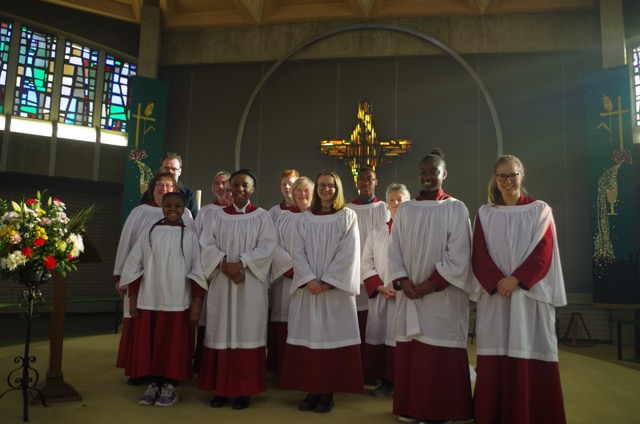 Our small but talented choir consists mainly of young people. All choir members receive a first-rate musical education.
There has been a long tradition of musical excellence at St Laurence's. The original church, built in the 1880s, had a strong choir of men and boys who took part in the Festival of Britain services in 1951.
When the new church was opened in 1968, the musical tradition continued. A new Walker organ was installed in the church, using some pipework from the old organ and Directors of Music have included David Sanger, Professor Roger Wibberley, Paul Dewhurst, Tom Fowkes, Marcus Wibberley, Iain Simcock, Andrew Ibbotson & Huw Morgan. The current Director of Music is Jocelyn Freeman.
Girls were first admitted to the choir some twenty-five years ago, and the choir remains unique in this part of south-east London in that it continues to use only trebles (girls and boys) on the top line. The lower parts are provided by volunteer adults from the local community. Young people receive an excellent musical education, and the choir has a few bursaries each year with which members' music lessons can be subsidised.
Recent cathedral residencies have included Ely, St Asaph, Beverley Minster, St Edmundsbury, St David's Cathedral, Liverpool Metropolitan Cathedral, Hexham Abbey and Southwark Cathedral.
In 2007 the choir went on a 4 day tour of the Netherlands which included 2 concerts in Amsterdam and a service; subsequent tours have included Berlin (2008), Tuscany (2009 and 2014) and Ypres (2013).
For more information, please email the Director of Music, Jocelyn Freeman, at choir@stlaurencecatford.org.uk
NEW: The Joyce Jefferys Tenor Scholarship (£750 p.a.) is now open for applications. Click here for more details.
For a sample music list, click here.
A sample anthem: Alma Redemptoris, sung by the choir (live at the Advent carol service 2011), and a carol: There shall a star by Felix Mendelssohn
And for some photos of recent choir tours, click here!